launching KPE & delivery CSR bankjatim in probolinggo
Date: 06 june 2012
Categories : All Announcement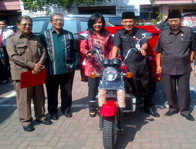 Follow up on Memorandum of Understanding (MOU) between the State Personnel Agency (BKN) with Bank Jatim on January 29, 2009 in Jakarta, launching Card Electronic Governance (KPE) made ??by Mayor of Probolinggo on Wednesday (06/06) in Building Puri Manggala Bhakti, Government Office Probolinggo who also attended by Director Corporate & Medium Business Bank Jatim Djoko Lesmono, Chairman of the Parliament Probolinggo, Deputy Mayor and City Government Environmental SKPD in Probolinggo.
According to Djoko Lesmono, KPE is a synergy program of the Central Government (BKN Center), Local Government (BKN, Regional BKD) and Bank Jatim are expected to be used by Civil Servants across Indonesia, especially in East Java in the future is expected to function as follows: For know the identification of the Civil and dependent family; authentication healthcare; authentication Housing Savings; authentication services Banking Product (collaboration with Bank Jatim); authentication payment of salaries; authentication services as needed.
In order to realize these functions required the cooperation between the Bank Jatim with the Local Government intensively. According to Djoko Lesmono, Bank Jatim prepare a variety of hardware and software, including the addition of network services to the district level, both mobile ATM or new office.
For this purpose Bank Jatim open cooperation with other parties at the district level; Process KPE to function as an ATM card; collaboration with switching agencies, namely: Joint ATM (in Indonesia), ATM / Debit Prima (using EDC at merchants throughout Indonesia); host to host, for the payment of agency telephone, electricity, taxes, etc.
Meanwhile, the district government Probolinggo completed ownership KPE all employees; conduct the survey of employees and already have an account yet. KPE also as an ATM card that works: for making salary (payroll), can be used to capture credit disbursements Multipurpose, shopping at merchants (EDC logo prime), as a function of debit card; pay taxes, electricity etc; registration SMS Banking Bank Jatim.
On the occasion, related to Corporate Social Responsibility (CSR) Bank Jatim also symbolically handed over five (5) units valued at Motor Carriage Rp. 110 000 000, - for Probolinggo Government as a means of maintaining the cleanliness and beauty of the area Probolinggo. "This is done in the hope that this assistance could be useful and used as well as possible for the purpose of Probolinggo society "