Bank Jatim and Tuban Regency Synergize to Launch Jatim Agent
Date: 14 march 2023
Categories :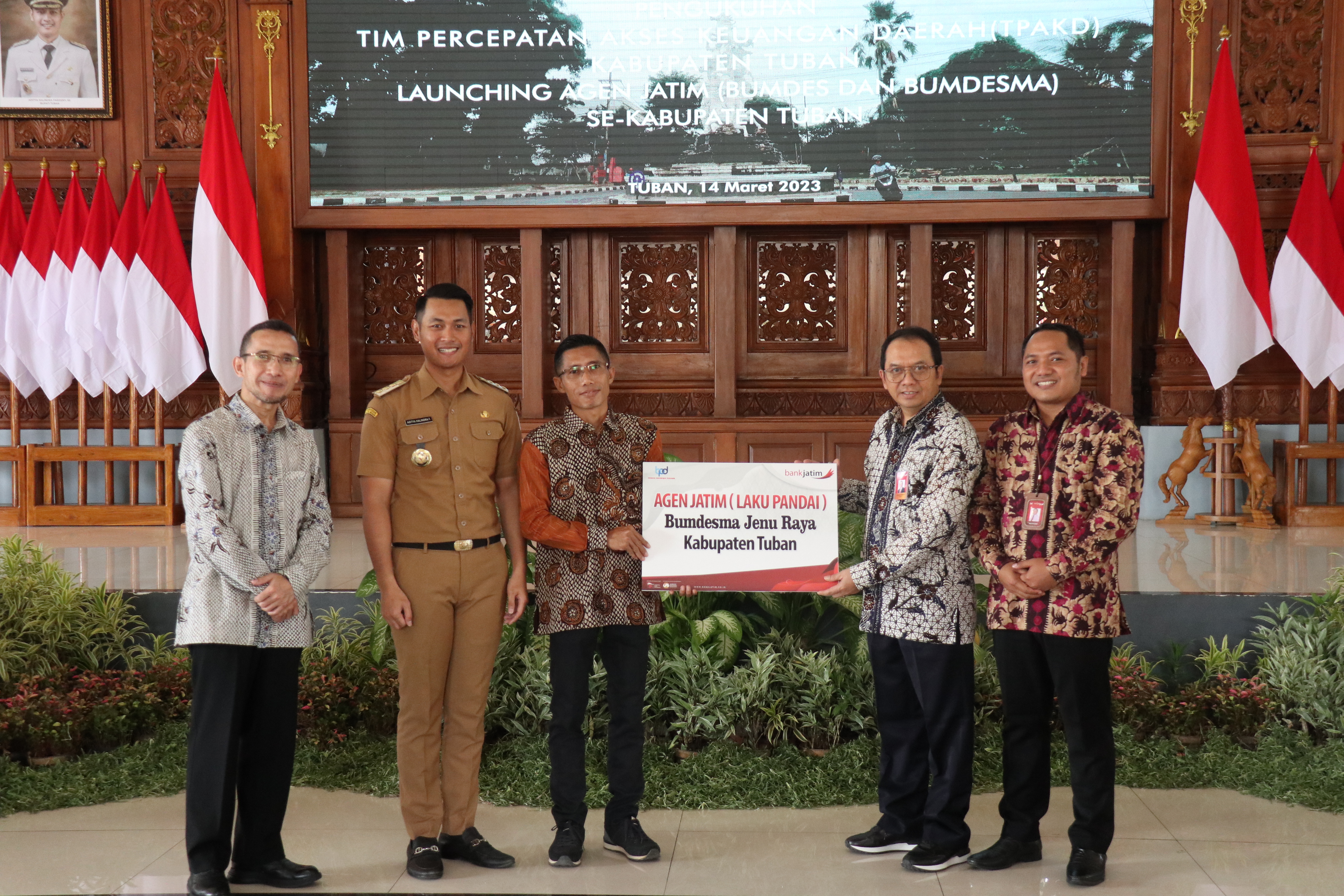 SURABAYA - March 14, 2023. PT Bank Pembangunan Daerah Jawa Timur Tbk or Bank Jatim is increasingly aggressive to synergize with the district government in order to boost the economy of the local community. One of them is with Tuban. Located in the Hall of Tuban Regency (14/3), Director of Finance, Treasury and Global Services Bank Jatim Edi Masrianto together with Tuban Regent Aditya Halindra Faridzky has officially launched Jatim Agents (BUMDes and BUMDesma) throughout Tuban Regency.
Edi explained, Village-Owned Enterprises (BUMDes) have a very important role as a supporter of business activities to manage existing potentials. The potential in the village certainly varies and exists in various sectors. Among others, tourism villages, the agricultural sector, community business products, and many more.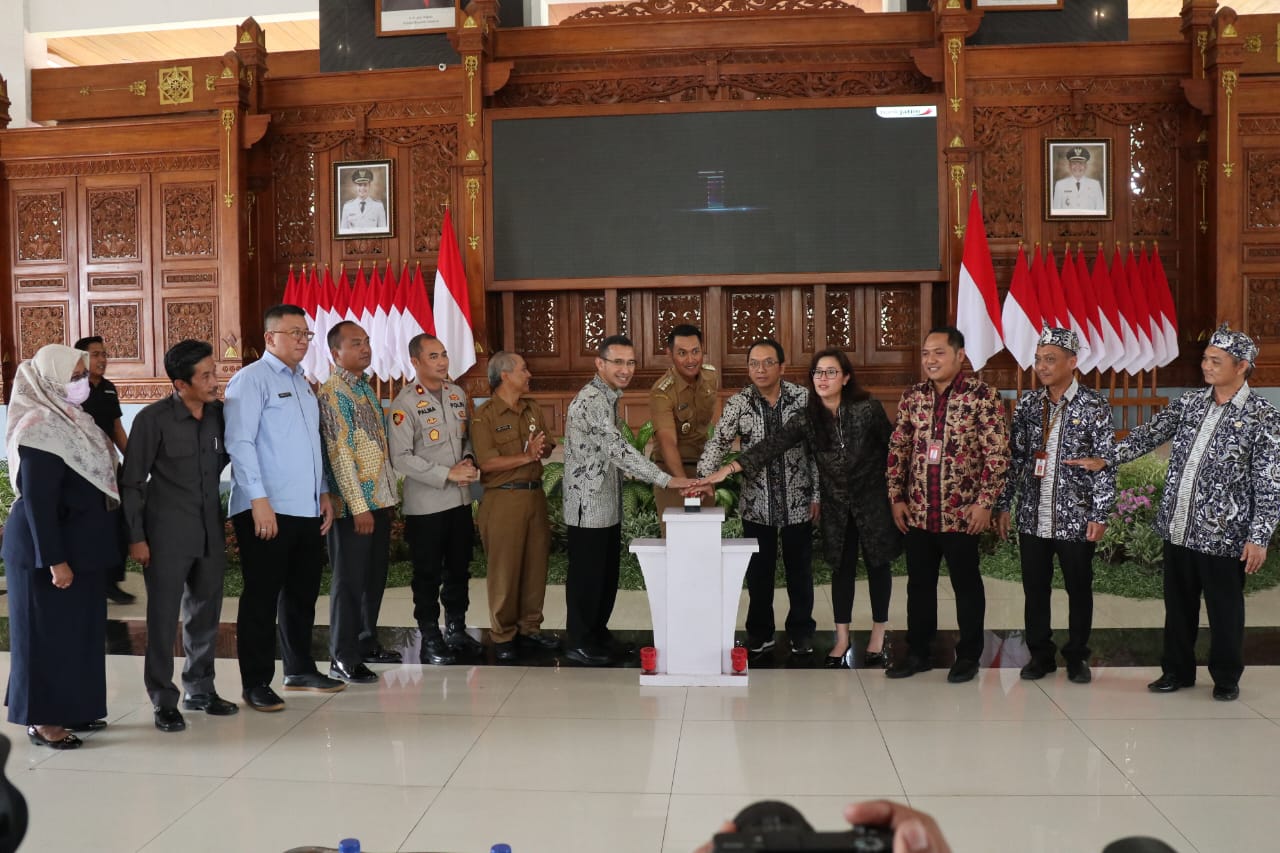 "Seeing these opportunities, Bank Jatim opens the widest possible space for Tuban Regency Government through BUMDes and BUMDESma to be able to collaborate as a partner of Bank Jatim commonly referred to as "Agent Jatim"," he explained.
By becoming a Jatim Agent, potential financial transaction services needed by the community in the villages can be done without having to come to the Bank Jatim office. People who want to transfer funds, deposit and withdraw cash, purchase and pay bills, or conduct other banking transactions only need to come or communicate with the nearest BUMDes.
According to Edi, the benefits of being a Jatim Agent are also quite a lot. Namely, you can get additional income for each transaction, there is no deposit limit, and there is no time and space limit in transactions because everything can be done via cellphone. "It is very easy, practical, and can be accessed at any time," he emphasized.
He hopes that the synergy between Bank Jatim and all BUMDes in Tuban Regency can be a good start to open the door for cooperation to collaborate in other fields. "We will continue to be committed to be a partner of Pemkab Tuban and ready to support the maximum work programs that exist in order to advance the economy of Tuban Regency," said Edi.
In line with Edi, Lindra also said that economic development is not only about investment, trade growth, industry, and agricultural processing. But also from community empowerment in the village. "We are very happy with the Jatim Agent from Bank Jatim because of course the positive impact is very much. Such as increasing community income and bringing financial access closer so that financial literacy is also getting better, "he explained.
These things are in accordance with one of the vision and mission is to drive the economy to the household level. "Our hope is that the community will no longer be confused about finding a job because entrepreneurship opportunities are wide open through smart agents like Agent Jatim," said Lindra.
Director of Financial Services Institution Supervision 2 and Strategic Management - OJK Regional Office 4 East Java Dedy Patria added, economic growth in Tuban throughout 2022 was very positive. It reached 8.88% or grew 3.00% from the previous year. This figure exceeds the average growth of East Java Province which only amounted to 5.34% and the national average of 5.31%. "We also appreciate the Regent of Tuban and his staff for being proactive and taking the initiative to form the Regional Financial Access Acceleration Team (TPAKD)," he said.
OJK hopes that with the inauguration of the Tuban TPAKD, the local government, financial services institutions, and related stakeholders can collaborate with each other to accelerate the realization of financial access through innovative work programs and have a direct impact on the welfare of the community. So that the existence of this Jatim Agent is also expected to further improve financial literacy and inclusion among the people of Tuban.