Bank Jatim Extends Services for People in Maritime and Fisheries Sector Through "Jaring" Program
Date: 17 november 2015
Categories :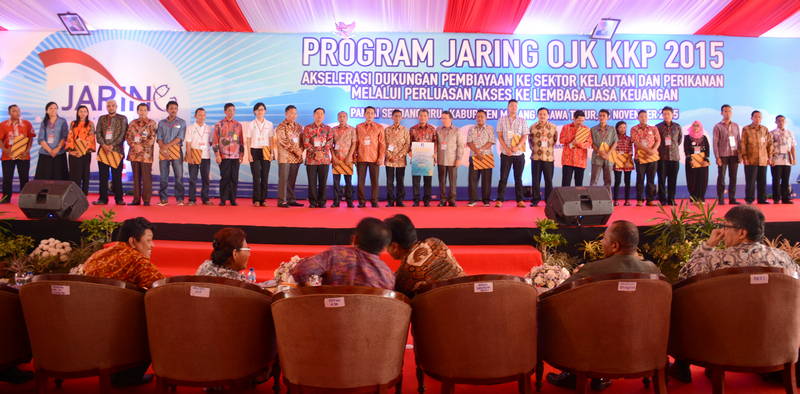 As a partner of Otoritas Jasa Keuangan (OJK) along with Kementerian Kelautan dan Perikanan (KKP) / Ministry of Maritime and Fisheries, bankjatim extends financial services for "Jaring" or Jangkau (Reach), Sinergi (Synergy), and Guideline Programme in Sendang Biru Beach, Kabupaten Malang, East Java (13/11).
 Event titled "Acceleration in Financing Maritime and Fisheries Sector by Extending Access to Financial Institutions" was attended by Chief Commissioner OJK Muliaman D. Hadad, Minister of Maritime and Fisheries Susi Pudjiastuti, East Java Vice Governor Saifullah Yusuf, Directors of banks partner in Jaring, Directors Perum Jamkrindo, and Directors PT Jamkrida Jawa Timur and officials form Perusahaan Listrik Negara.
 President Director bankjatim, R. Soeroso explained "Here in Sendang Biru, 5 partner banks (bankjatim, BRI, BNI, Bank Mandiri, and Bank Sinarmas) officially extends financial services by issuing Kartu Jaring specifically to be made use of by people involved in maritime and fisheries industry. We expect that this service helps customers to groom saving habit and map the customers. In the future, Kartu Jaring provides records of details of customer savings and transactions in all TPI in Indonesia. Furthermore, all 5 banks expect to be able to approve new credit applications at minimum Rp. 363 billions in 2015".
 New loan applications will be approved accordingly by BRI, BNI, Bank Mandiri, Bank Permata, Bank Bukopin, BCA, Bank CIMB Niaga, Bank Maybank Indonesia, Bank Sinarmas, and bankjatim to debitors in maritime and fisheries industry. Total loans of Rp. 103,45 billions were approved for customers in Sendang Biru area who involved in fishing, ponds, fish processing, marketing, trades, and exports.
 Partner banks and Lembaga Penjaminan Kredit also collaborated to give aids in value of Rp. 417,5 millions to be used for renovating TK Dharmawanita and Poliklinik Desa Sendang Biru, providing educative facilities in SD and SMP Nelayan and Madrasah Tsanawiyah, and aids for senior citizens in Sendang Biru. Ministry of Maritime and Fisheries also donated fish processing utilites valued Rp. 5,3 billions to groups of fish processing in Sendang Biru.