Bank Jatim Supports East Java Provincial Government Trade Mission in North Kalimantan
Date: 20 march 2023
Categories :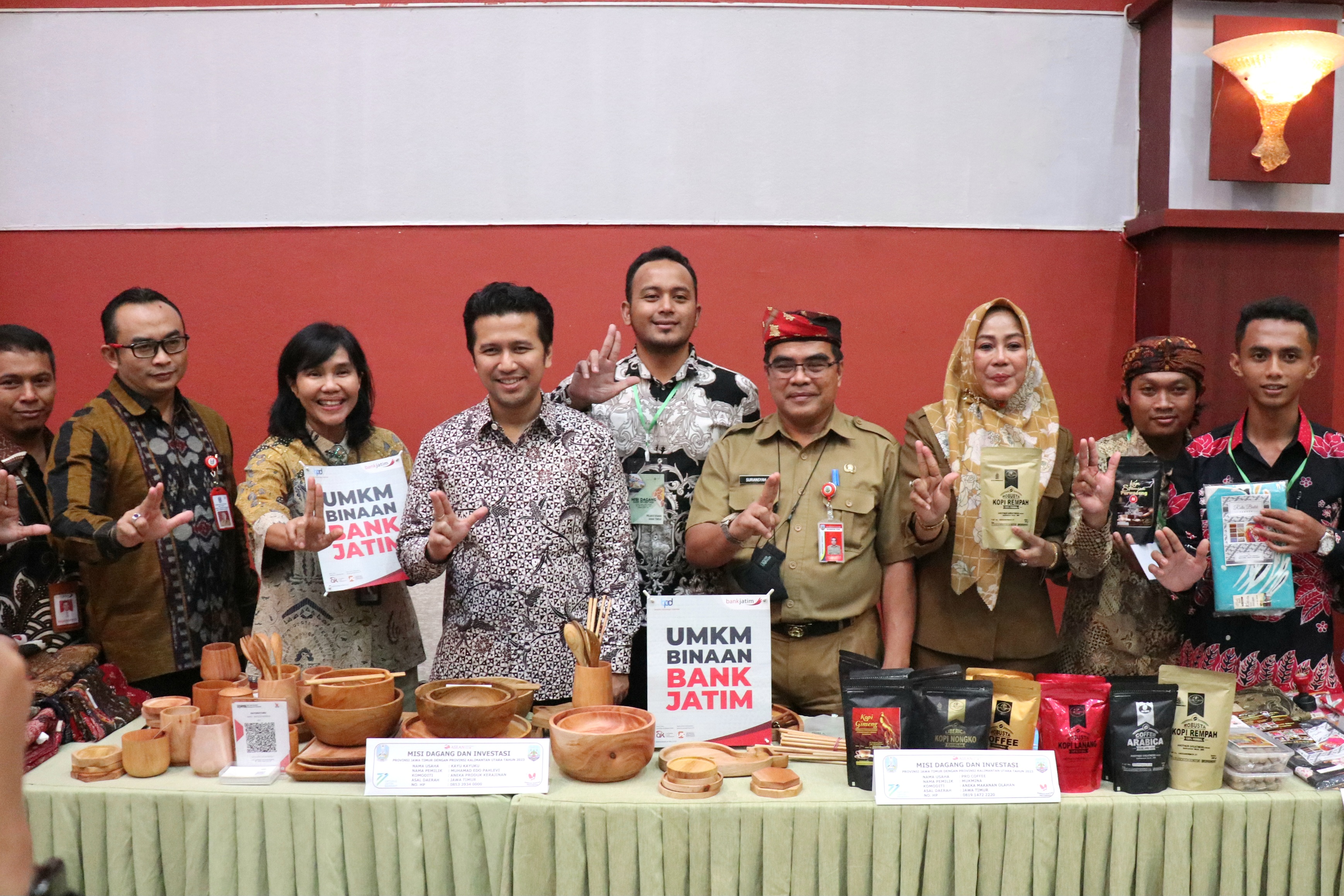 TARAKAN CITY, March 20, 2023. PT Bank Pembangunan Daerah Jawa Timur Tbk or Bank Jatim continues to support the Trade and Investment Mission activities organized by the Provincial Government (Pemprov) of East Java. One tangible form of support is to include SMEs assisted by Bank Jatim in a trade mission held at Tarakan Plaza Hotel, North Kalimantan Province, Monday (20/03).
Not only provide a variety of banking services to customers SMEs, Bank Jatim also actively provide assistance and support in developing its business. "One of the missions of Bank Jatim in this activity is to help assisted SMEs to expand the market network and support the government in strengthening the ties of trade between East Java Province and North Kalimantan Province," said President Director of Bank Jatim Busrul Iman.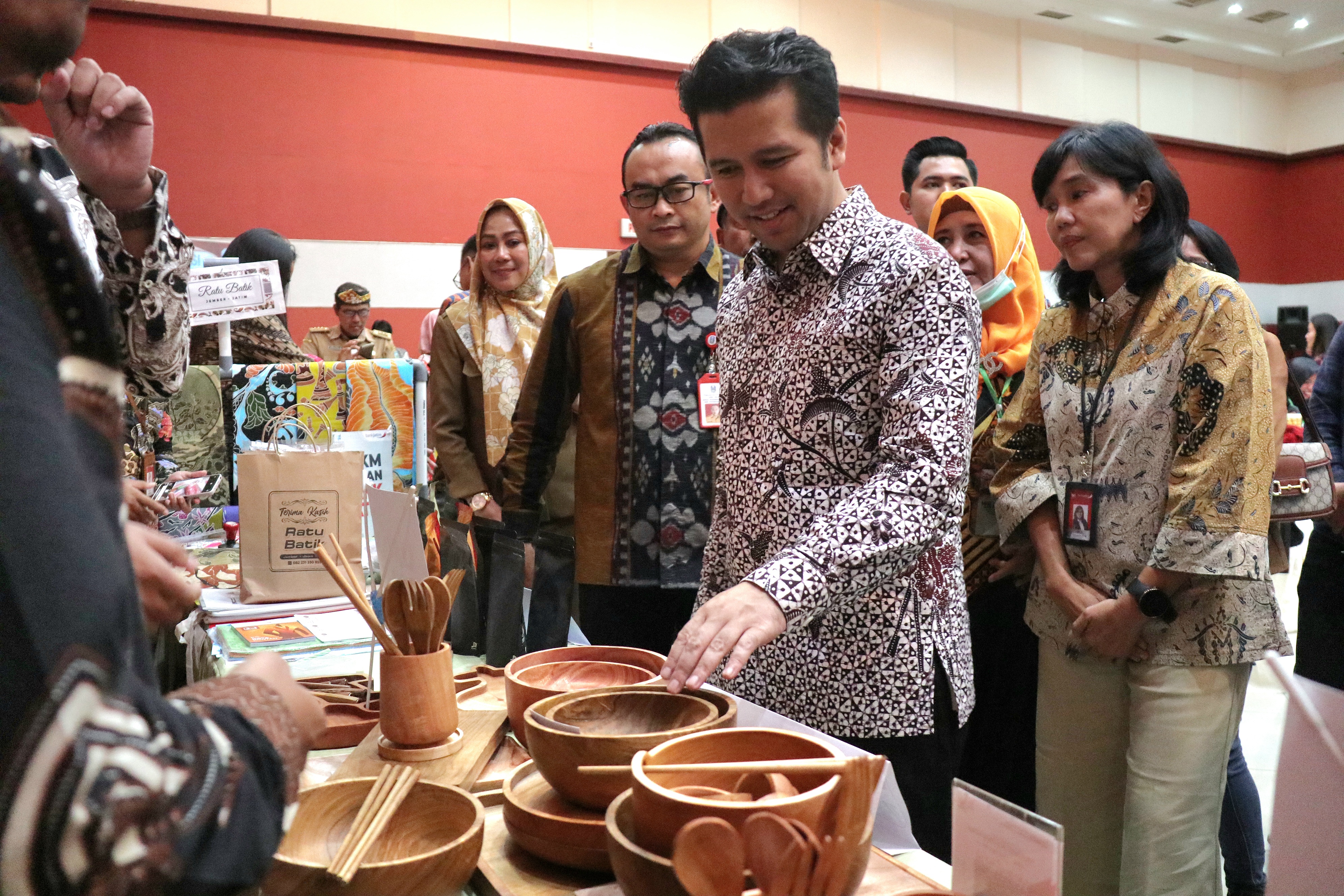 With the theme of Increasing Network Connectivity Between East Java Province and North Kalimantan Province, the Trade Mission event was attended by Deputy Governor of East Java Emil Elestianto Dardak and North Kalimantan Regional Secretary H. Suriansyah who also opened the activity. On the occasion, also present SEVP Network and Services Bank Jatim Revi Adiana S. who accompanied the fostered SMEs and introduced Bank Jatim's fostered customers to business people in North Kalimantan.
There are 3 SMEs fostered by Bank Jatim which are included in the event. Among other wooden handicraft products from UKM KayuKayuku, batik products from UKM Ratu Butik, and coffee products from UKM Pro Coffee. "The superior products of SMEs assisted by Bank Jatim are expected to be able to provide benefits according to the needs of the community in North Kalimantan Province," he explained.
On the other hand, Emil said, the Trade and Investment Mission of the East Java Provincial Government this time recorded a transaction commitment worth Rp 204 billion. He hopes that through this Trade Mission activity, East Java can build a close brotherhood with North Kalimantan and become a sustainable collaboration.
"Thanks to this Trade Mission event, East Java and North Kalimantan agreed to commit transactions worth more than Rp 200 billion. This commitment is good news amid the uncertainty of the current global economic conditions. With the many business potentials between the two provinces, of course we are ready to synergize with a mutually beneficial pattern with North Kalimantan Province, both Business to Business and People to People," Emil said.
In line with Emil, Suriansyah welcomed and said that this Trade Mission event could optimize and empower the potential of each region. He hopes that this activity can be carried out on an ongoing basis.
"We would like to thank East Java Province for today's activity. Hopefully the Trade Mission, which was attended by 150 business people from both provinces, will start a good business cooperation and benefit the people of East Java and North Kalimantan, "he concluded.