Fully Supported by Bank Jatim, PT Enha Sentosa Indonesia Successfully Exports Ginger to Four Countries
Date: 21 may 2023
Categories :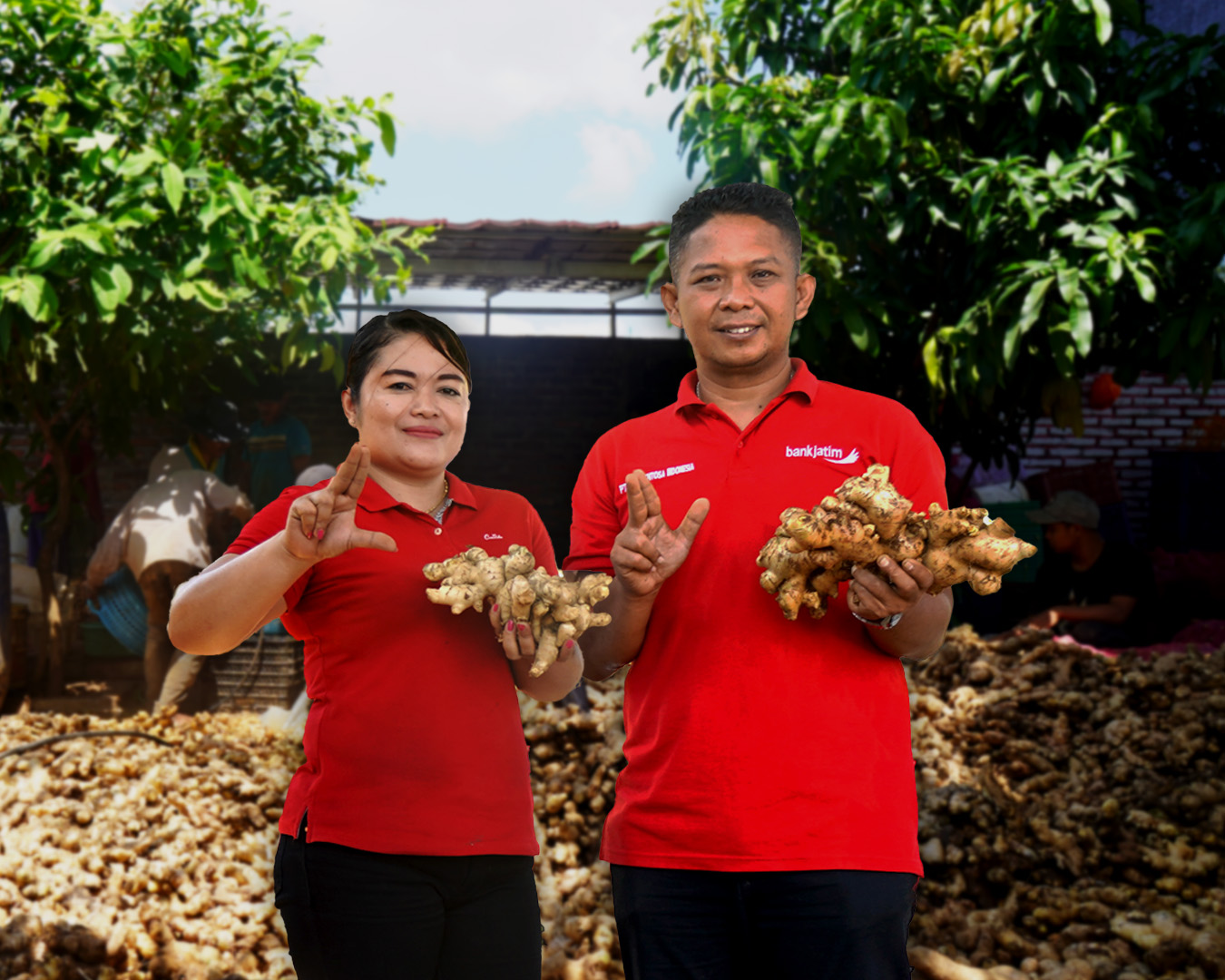 SURABAYA, May 21, 2023. With vast natural resources, the export potential in East Java is quite large. This opportunity was taken by Hanif Setyobudi who currently works as the Owner of PT Enha Sentosa Indonesia. He has experienced ups and downs to build his business empire. However, with strong hard work and full support from PT Bank Pembangunan Daerah Jawa Timur Tbk (bankjatim), Hanif is now the king of ginger exports to four countries. Those are Bangladesh, Pakistan, Turkey, and Dubai.
Hanif explained clearly how he built his company from zero to big like now. "It's not as easy as turning your palm," he said when met in Ponorogo.
The business he started with was corn because it only takes three months to harvest. In addition, Ponorogo is also famous for its pajali (rice, corn, soybean) commodity. But over time, Hanif felt that this was not his passion. This resulted in his business going out of business. His corn business was a total failure.
.
From that incident, he migrated to Kalimantan while contemplating what other business could be developed to support his family. Not long after, Hanif met one of his best friends who knew a lot about ginger development. "I was interested and planned to buy about 5 tons of ginger seeds to plant in Kalimantan," he explained.
Thanks to Hanif's perseverance and determination to succeed, he was able to grow his ginger. From the original 2 tons, he grew to 25 tons. After the jahenya grew, Hanif's wife, Endang, asked him to return to Ponorogo and continue his business there.
Thanks to his persistence and enthusiasm, in 2021 he immediately received an offer to export ginger to Bangladesh. Since then, Hanif has created a company called PT Enha Sentosa Indonesia. "Enha stands for my wife and my name. Endang - Hanif," he continued.
Hanif admits that his business is skyrocketing cannot be separated from the support of bankjatim so far. "Thanks to bankjatim, thank God in 2022 I was able to send 12 containers directly to Bangladesh. At that time I did not think about profit and loss, the important thing was to be able to export and farmers could progress," he added.
Even more encouraging, this year, the original Ponorogo company also managed to get extraordinary capital assistance support from bankjatim of more than IDR 1 billion and at the same time obtained a contract from Bangladesh worth 100 containers for 2023. "Since starting this business, bankjatim has continued to help me, not only in terms of capital assistance. Starting from bookkeeping, good administration, expenses must be balanced, etc. everything was also taught by bankjatim. That made me more enthusiastic," said Hanif.
Meanwhile, President Director of bankjatim Busrul Iman is very proud that there are already customers who have successfully penetrated the export market. "Things like this are very good and must continue to be improved. With this, it is no longer a discourse that business people in East Java can go upmarket. The proof is already there," Busrul said.
He also stated that he would fully support all bankjatim customers to flap their business wings. Especially for customers who have exported. "Surely we will encourage customers to explore foreign markets because of its great impact on the economy, especially in adding foreign exchange," he said.