Performance continues to be positive, Bank Jatim wins Infobank Award 2023
Date: 25 august 2023
Categories :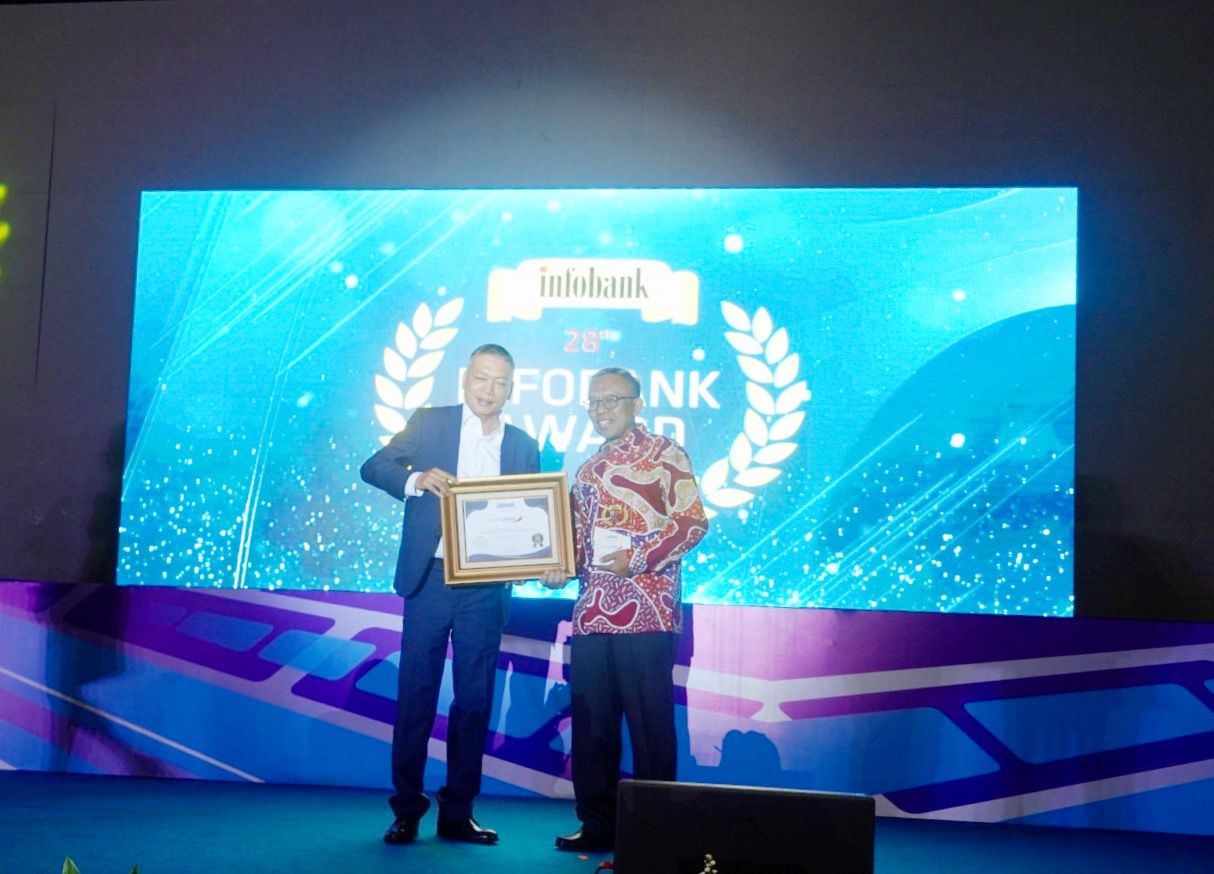 JAKARTA, August 25, 2023. Performance that continues to be positive makes PT Bank Pembangunan Daerah Jawa Timur Tbk or bankjatim rewarded with various awards. Most recently, bankjatim has just been awarded The Best Financial Performance Bank In 2022 (KBMI 2) and Excellent Financial Performance Bank In 2022 in the 28th Infobank Award 2023. Located at The Ritz-Carlton Mega Kuningan Jakarta, the prestigious award from Infobank magazine was handed over by Chairman of Infobank Media Group Eko B. Supriyanto to bankjatim Risk Management Director Eko Susetyono.
bankjatim welcomes the award that has been pinned to the company. According to Eko, the achievement obtained is inseparable from the hard work of all Jatimers who always keep the banking business running in the midst of intense competition. On the other hand, public trust in bankjatim is also part of the success of the company to get this award from Infobank. "This achievement cannot be separated from the support of all parties," said Eko.
He explained, bankjatim currently continues to aggressively make innovations in order to provide easy service to all customers. In every movement, ranging from services to products, bankjatim is always oriented towards the benefit and benefit of the community. An example of the latest innovation launched some time ago is JConnect Pro. People can now open bankjatim accounts online.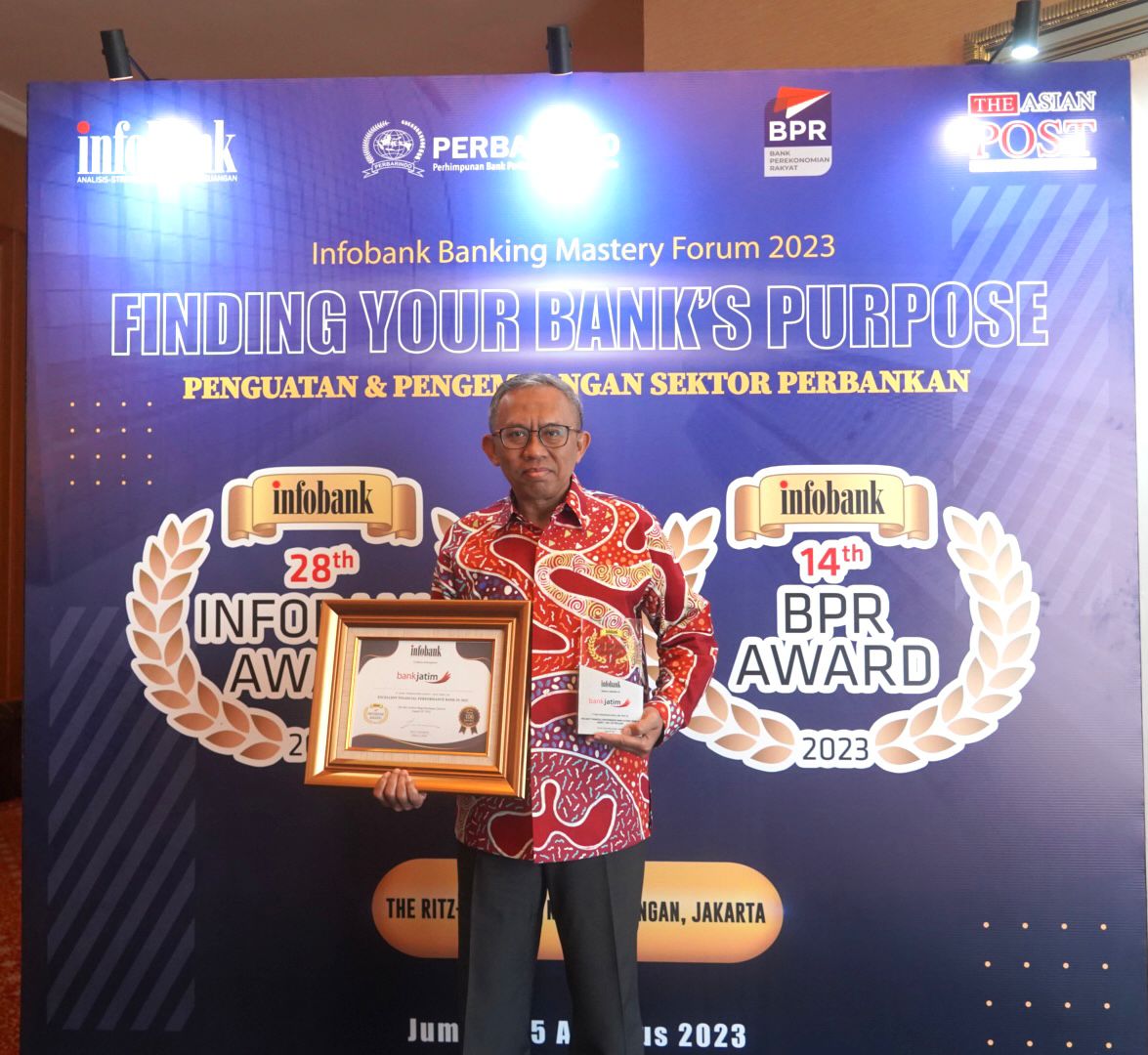 "In addition, we also continue to carry out five transformations for business acceleration, namely organizational transformation, human capital transformation, rule making rules transformation, IT and digital banking transformation, and corporate actions. Things like that are what makes bankjatim's performance more positive," said Eko.
Bankjatim successfully passed the first semester of 2023 with a fairly good performance. During the first semester of this year, bankjatim lending was able to record a significant increase above the average of 13.02 percent (YoY). For the highest credit growth occurred in the commercial and SME sector by 25.55 percent (YoY) and the consumer sector 5.77 percent (YoY).
The credit growth that has been achieved by bankjatim has made the company's LDR even better. From 45.88% in the first semester of 2022 increased to 59.54% in the first semester of 2023. Bankjatim's credit distribution was also followed by improvements in loan quality. This can be seen from the Loan At Risk (LAR) ratio which sloped at 5.77% in the first semester of 2023, compared to 6.86% in the previous year (YoY). Bankjatim's Gross Non Performing Loan (NPL) ratio also declined at 2.80% in the first semester of 2023, compared to 4.12% in the same period the previous year (YoY).
Meanwhile, 62 commercial banks won the "Infobank Award 2023" award from Infobank Magazine. According to Chairman of Infobank Media Group Eko B. Supriyanto, this award is a form of Infobank's appreciation for banks that have worked extra hard with dedication and high integrity, as well as a form of support for the banking industry to continue to maintain its best performance.
Although it managed to carve out its best performance, Eko advised the banking industry to remain vigilant with the global economy that is still volatile. Both due to the war between Russia and Ukraine which is not known when it will end, as well as the threat of a food crisis in Europe when the inflation storm has not yet subsided. Moreover, the national banking industry's credit restructuring program will end in March 2024. "Banks must remain vigilant by strengthening their horses to deal with economic developments that are not always conducive," he concluded.