Service Variety of Bank Jatim Print Shining Performance
Date: 18 september 2018
Categories :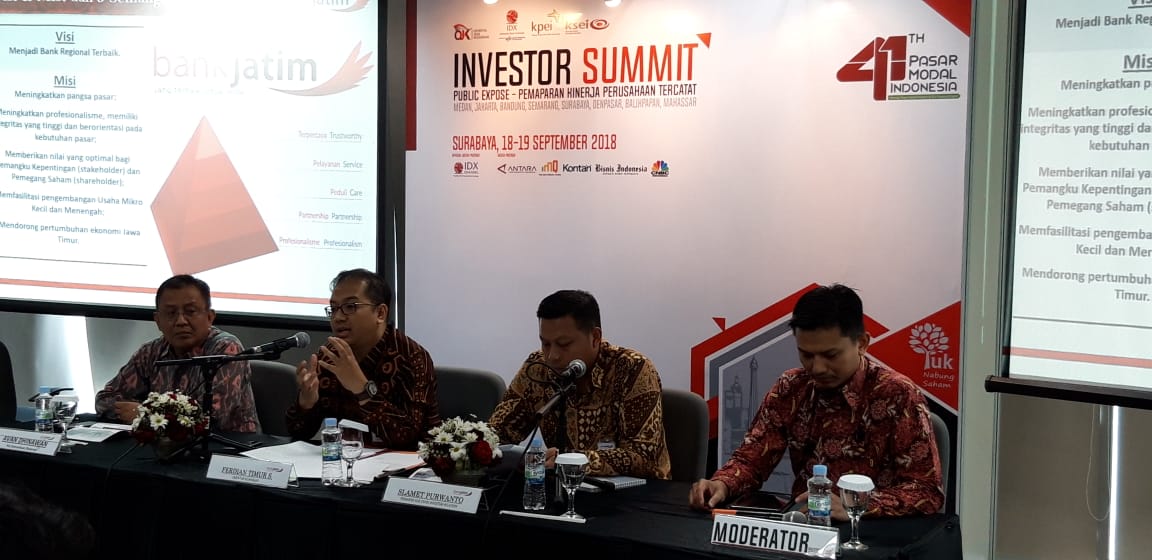 In the 2018 Investor Summit, PT Bank Pembangunan Daerah Jawa Timur Tbk (bankjatim) carried out public exposures and press conferences to present the achievements and financial performance per August 2018 (unaudited) at the Bursa Efek Indonesia Building, Surabaya (09/18)
bankjatim with the BJTM issuer code is the BUMD owned by the Regional Government of East Java with the following stock composition:
Series A shares of 51.26% are owned by the East Java Provincial Government, Series A shares of 28.43% are owned by East Java Districts and Cities.
Series B shares amounting to 13.02% are owned by foreign parties / foreigners, and 7.29% are owned by domestic investors
From the composition above, it shows that bankjatim shares are also in demand by foreign investors, besides good performance, the dividend distribution for bankjatim shareholders also attracts those investors.

Recorded on this August 2018 achievement, Bankjatim's financial performance showed good performance and grew compared to the same period the previous year (Year on Year / YoY). Bankjatim assets grew 12.05% or became Rp. 59.74 trillion and bankjatim's net profit is recorded at Rp. 928.05 billion, growing 3.50% (YoY).
bankjatim posted a significant growth for Third Party Funds, which was 13.09% YoY, so CASA bankjatim was still well maintained at 67.57%. Bankjatim's credit growth also increased by 6.60% YoY, with the largest credit growth in the Consumption Sector which increased by 8.78% YoY.

The consumption sector, especially Multipurpose Loans, is the largest and safest contributor sector in bankjatim. With a portion of 56.87% of the total bankjatim credit and producing the lowest NPL of only 0.26%. bankjatim prioritizes appropriate credit expansion as well as prudent, by maintaining current loans and new loans not to become NPL contributors and not to incur high CKPN costs.
Bankjatim's financial ratio in August 2018 is as follows: ROA 3.36%, ROE 19.98%, and NIM 6.45%. This ratio shows that bankjatim capability is good at generating profits.

As of August 2018, bankjatim has a total of 1,638 services, both conventional and sharia services. Coupled with ATM Bersama services and Prima and Prima Debit networks. Also the latest, bankjatim has joined the GPN (National Payment Gate), which means bankjatim ATM cards can be used at all ATMs and merchants in Indonesia who have the ATM Bersama, Prima and GPN logo without any fees.
Banking digitalization has also become one of Bankjatim's concentrations in improving its services. It has been proven that 12,500 bankjatim flazz cards have been circulating in the community as of June 2018. Bankjatim Flazz is an electronic money service bankjatim in collaboration with BCA. Various services available at electronic channel facilities owned by bankjatim (ATMs, SMS Banking, Internet Banking, Mobile Banking) include credit purchases, motor vehicle tax payments, land and building taxes, tuition fees for schools and universities, electricity bill payments and PDAMs , Credit Cards, Cable TV, Container, Car Body, Multifinance, Train Tickets, Airline Tickets, etc., are expected to be a banking solution for customers and the public to be able to transact banking without having to queue and stop at any time.

Bankjatim's services have become more complete after the Jatim Prioritas Service has been operating since the beginning of 2015. Also with the synergy between Bankjatim and Sinarmas MSIG Life and Jiwasraya Insurance in bancassurance services, it has complemented the alternative choice of community banking transactions.
As a token of appreciation for public trust, especially the people of East Java, bankjatim held a series of programs Gemerlap Hadiah Undian Simpeda for every year. For this year, the drawing draw with a total prize of Rp. 6.65 billion will be held in 6 (six) cities, starting from the city of Jember on September 15, 2018 and then every weekend will be held in the city of Bangkalan, Jombang, Pacitan, Kediri and finally in Surabaya for the grand prize drawing of Rp. 500 million.

And as a complementary information, until August 2018, the number of SIMPEDA bankjatim savings customers is 1.86 million customers with a nominal value of Rp. 11.87 Trillion or increased from the previous year (YoY) of 13.20%. And the most proud is that for the 10th consecutive year, bankjatim became the largest SIMPEDA savings collector in all BPDs in Indonesia.