Prediction of Economic Opportunity 2015 Bank Jatim Holds Gathering With Customer Trade Finance
Date: 15 december 2014
Categories :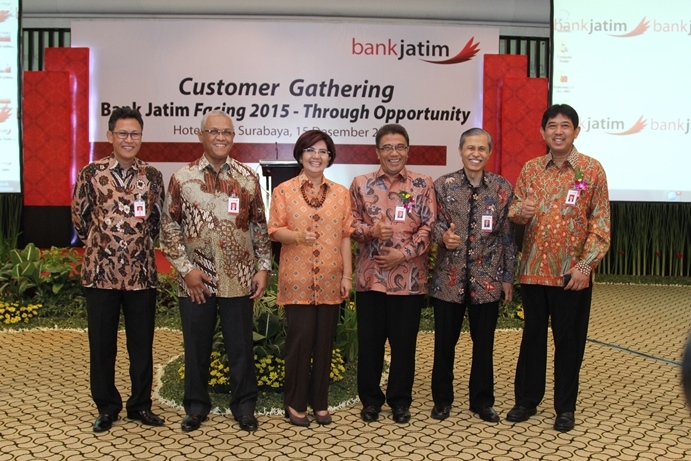 With the aim to introduce treasury activities specifically dealing room bankjatim to customers, Monday (15/12) bankjatim held a gathering with trade finance and treasury customers located in Hotel Bumi Surabaya.
The event, titled "Facing East Java Bank 2015 Through Opportunity" will not only as a means of communication and relationship with customers bankjatim, also as the introduction of trade finance and treasury products bankjatim, and at the same time educate customers about the form of prediction markets in 2015.
In this event, bankjatim also bring economic observer Aviliani as a speaker who has no doubt about the capabilities of the Indonesian economy.
As its main function is to manage liquidity, both in order to comply with Statutory Reserves (GWM) Bank Indonesia or in order to meet obligations to depositors, borrowers and counterparties, the treasury is the right place to meet the needs of foreign exchange and hedging.
bankjatim as Foreign Exchange Bank, always trying to serve the needs of the community will import export transactions, SKBDN and remittance. To complement these services, bankjatim through treasury division has built a dealing room to synergize services trade finance and foreign exchange or hedging needs and increase fee-based income bankjatim.
Dealing room is a unit of work that is filled by professionals (dealers) who served as a supporting unit in managing liquidity, reserve requirement, and Net Open Position as the provisions of Bank Indonesia, also as a profit center unit with active trading in the financial markets and with the Customer.
Official functioned since last September, dealing room bankjatim is currently has actively doing treasury transactions such as money market, Foreign Exchange Market, capital markets, including transactions with the Customer. In support of its operations, the dealing room has been equipped with supporting infrastructure such as Dealing Phone, Bloomberg, Reuters Dealing and Eikon including treasury system which is implemented by Quantum Ambit SunGard Indonesia / Asia Pacific.
Presiden Director of bankjatim Sukrianto Hadi said that the dealing room is one of bankjatim efforts in developing products and services that bankjatim continued competitiveness amid increasingly strong competition in the banking business.
"Bankjatim continue to provide the best, in terms of products and services to increase performance to be able to grow over time. The existence of the dealing room besides intended to maintain liquidity, is expected to increase revenues (fee based income) from treasury activities, "said Hadi Sukrianto.
The Achievement Dealing Room Treasury bankjatim so far recorded achievement progress rapidly, looks at some of the financial indicators have been achieved. Treasury activities through the Dealing Room per November 2014 has resulted in treasury income of Rp589.009 million, an increase of 42.92% yoy of achievement in November 2013 in the amount of Rp412.122 million.(pr/med)